Welcome to the Grooming Education Center
Welcome to the newest section of our website, the Groomer Learning Center. We're building this section because we are committing our resources to helping groomers, and those that want to be groomers, by providing informative articles, guides, links, videos, and more. Watch this section grow!
---
LIMITED TIME OFFERS!
SAVE ON GROOMING EDUCATION!
For a limited time, PetEdge is offering special savings on Pargon Distance Learning Program and Learn@GroomDogs.com subscriptions.
Develop your grooming potential!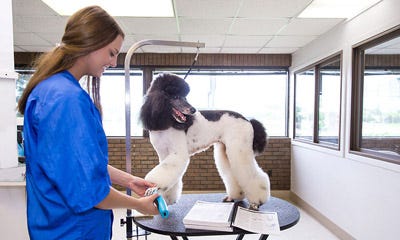 ---
Featured Articles
---


Speed and Efficiency with Judy Hudson
---
Featured Videos
New Videos from Melissa Verplank and Paragon School of Grooming
How to improve your speed
Remember, you have Client Options
The Power of Shed Control with Joe Zuccarello
How working with a high-velocity dryer in the bathing process saves time
Raking out the dead undercoat on a Golden Retriever
New Grooming Basics videos presented by Andis®
Grooming Non-Curly Coat Doodles and Mixed Breeds
Grooming Curly Coated Doodles and Mixed Breeds
---
Grooming Products Guides
If you're trying to navigate the world of grooming products, turn to PetEdge's comprehensive pet grooming guides to help walk you through the basics of setting up shop. Discover the benefits of different types of
grooming tables
; or the difference between
straight, curved or thinning shears
. You'll also find our up-to-date
dryer guide
with the anatomy of a dryer; or the varying types of
grooming shampoo options
. We also carry a detailed
clipper
and
blades
guide, and more. Make the most informed decision for your grooming needs.
---
Grooming Schools

Paragon School of Pet Grooming
(616) 667 7297
https://paragonpetschool.com/
Founded by grooming industry icon, Melissa Verplank, Paragon is focused on the success and career development of pet professionals at all levels, beginner to expert. Melissa has authored the industry's most complete grooming guides such as Notes from the Grooming Table and Theory of 5. Paragon offers grooming education experience to everyone through its Distance Learning Program and Learn2GroomDogs.com. Paragon is regarded as one of the best grooming schools in the world. Ms. Verplank and her team have created award winning platforms with traditional education programs and web-based learning tools.